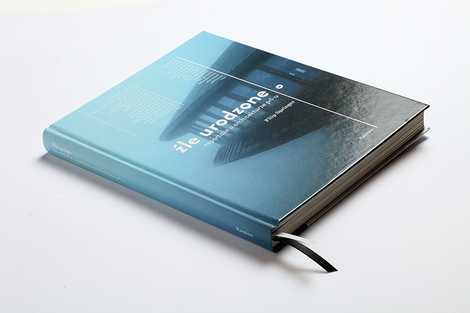 Wczoraj skończyłam czytać. W wannie. Nie zauważyłam, że woda wystygła. Już dawno książka nie zrobiła na mnie takiego wrażenia. Z jednej strony szata graficzna. Przepiękna okładka, lekko ryflowana. W środku dużo zdjęć, także archiwalnych. Kredowy papier, ładna czcionka, przepiękna grafika. Już tym samym można sie zachwycić.
Historia lekkim słowem pisanym. Czyta się ją jak interesującą powieść. Opisy budynków nie są suchymi faktami. Przeplatane ludzkimi losami stają się barwne, żywe. Wybiórczo, bo o temacie projektowania poprzedniej epoki politycznej można by napisać grube tomy, pokazuje jakie były realia projektowania w czasach prl-u. A były zupełnie inne. Teraz zniewoleni jesteśmy komercją, służeniem zachciankom inwestorów. Wtedy górowała nad wszystkim poprawność polityczna i normatywy. Ale, jak widać na kartach tej publikacji, można to było obejść i zaprojektować. No właśnie, co? Z jednej strony budynki i układy urbanistyczne, które dla fachowca są przykładem jak rozwijała się myśl techniczna. I że mieliśmy w Polsce uznane na świecie autorytety w dziedzinie architektury. Niektóre obiekty to perełki unikaty na skalę światową. Z drugiej - zderzenie z ciasnotą, niewygodą, normatywami, które ludzi wciskały do ciasnych klitek. I tylko kilka nazwiska, które próbowały z tym walczyć. Poczytajcie o Halinie Skibniewskiej i jej walce o zieleń. Albo o małżeństwie Hansenów, których Forma Otwarta na stałe weszła do kanonu myśli architektonicznej.
Rozmowy z przyjaciółmi, projektantami, liczne anegdoty czynią tę opowieść ludzką. Pokazują nie tyle samą architekturę co losy jej powstawania, a często i upadku. 
Dla mnie książka ma też wartość sentymentalną. Opowiada o czasach, kiedy byłam małą dziewczynką. Kiedy chowając się za spodniami taty chodziłam do jego zakładu pracy. Kiedy podglądałam jak robił makiety kościoła (kto wtedy słyszał u nas o programach 3D), a potem widziałam, jaki był zdenerwowany bo musiał się tłumaczyć w komitecie partii. Kiedy nasz pies zeżarł tacie kilka dni pracy - projekt kreślony na kalce (i to nie Cansonie). 
"Źle urodzone" Filipa Springera powinny wejść na stałe do kanonu obowiązkowych lektur na studiach. Na studiach, które za moich czasów w ogóle nie uczyły historii architektury współczesnej Polski. Architektury, którą niejednokrotnie możemy chwalić się na świecie.