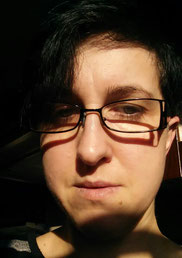 Architektura towarzyszy mi od zawsze. Tak to jest, jak dorasta się wśród szeleszczących kalek, skrzypiących rapidografów i drewnianych makiet.
     W świat przestrzeni wprowadzał mnie tata - Jan Belzerowski. Architekt i konstruktor. Ucząc rysować, pokazując "dobrą" architekturę, wyczulając na proporcje, zabierając na budowy. Zarażał mnie swoją pasją stopniowo i niejako mimochodem. Nie tylko mnie zresztą, bo architektem jest także moja młodsza siostra, a inżynierem budownictwa brat. Pierwsze wykłady o perspektywie zastąpiły szkice kreślone na serwetkach, a potem żmudne ćwiczenie kreski.
     Zainteresowania zmieniałam często (żeglarstwo, konie, chemia, gra na gitarze i pianinie), ale miłość do rysunku, malarstwa i chęć tworzenia własnych projektów doprowadziły mnie w końcu na wydział architektury Politechniki Gdańskiej. Równolegle ze studiami na ostatnich dwóch latach zajmowałam się pomaganiem tacie w jego pracowni. Zaczynałam w czasach, kiedy projekt kreśliło się na kalce, a zmiany wprowadzało żyletką. Potem przyszedł czas na założenie rodziny, pierwszego syna. On stawiał pierwsze kroki, a ja uczyłam się obsługi AutoCADA. Po urodzeniu drugiego przyszedł czas na projektowanie w 3D. Każde dziecko (mam trzech synów) motywowało do zmian i rozwijania się.
    Architektura wymaga elastyczności, ciągle się zmienia, nowe technologie powodują, że nie można się zatrzymać. Jednak to nie kształtowanie przestrzeni, rzeźbienie w betonie, stali i kamieniu jest w niej dla mnie najważniejsze, a człowiek. Jego marzenia, potrzeby, wizje. Jestem po to, by pomóc mu przyoblec je w realny kształt. Przeprowadzić przez gąszcz przepisów. Podpowiedzieć rozwiązania, które pozwolą połączyć ekonomię z pięknem. I tym właśnie zajmuję się od ponad 20 lat. Projektuję budynki małe i duże, proste i skomplikowane, ładne i te po prostu funkcjonalne. We współpracy z ojcem, mężem konstruktorem i współpracownikami.